SECTION 402: WADI HIDAN TO WADI MUJIB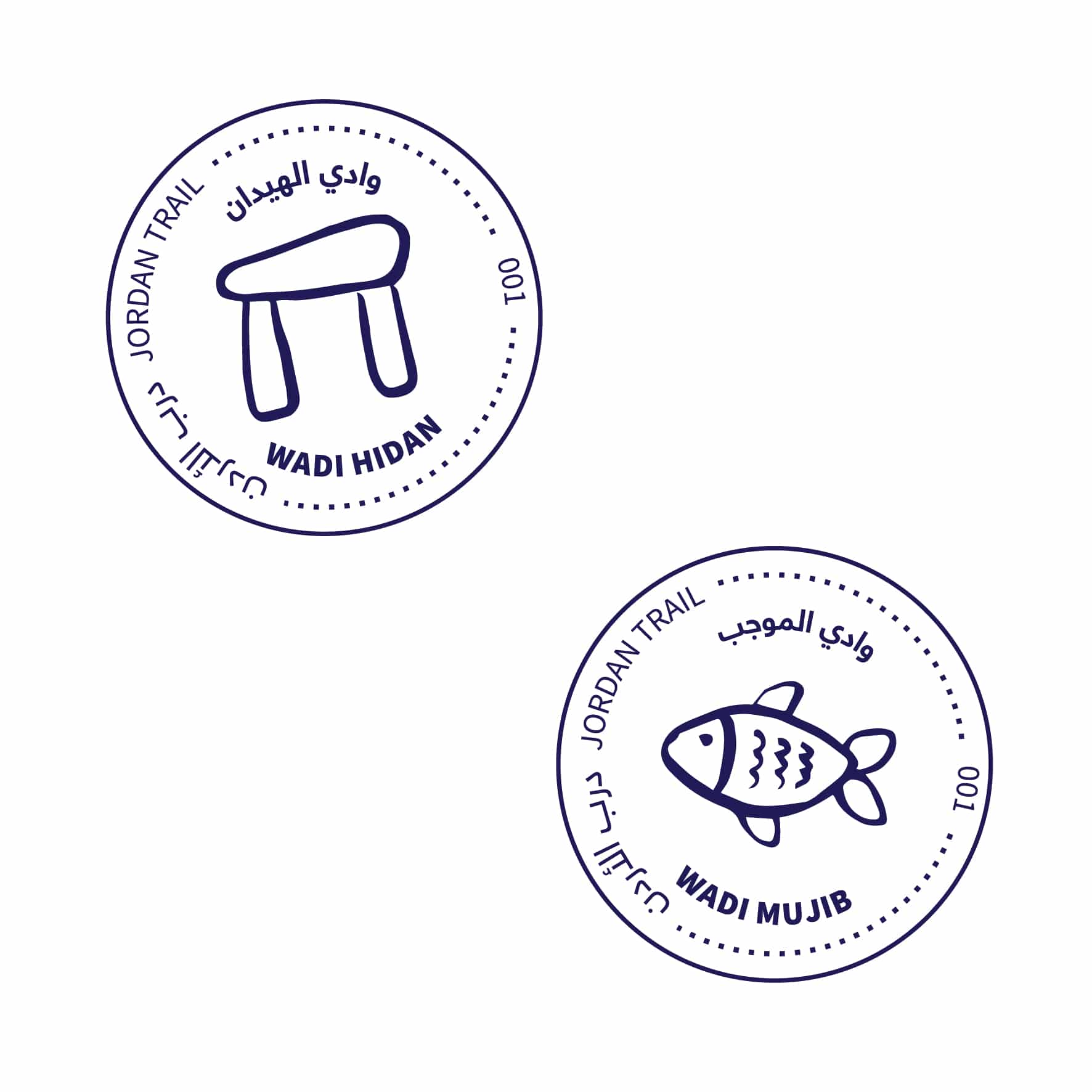 Tourism Police:
Hotline: 117777
What's App: +962 7 7099 1814
* When contacting Tourism Police for emergency identify that you are hiking the Jordan Trail, state your nationality, location and map name & number.
JTA office: +962 6 461 0999
(Working Hours: 9:00 a.m. to 5:00 p.m., Sunday- Thursday)
Cross the river (water level permitting) and follow a path which obligingly rises in easy stages to the SW, to reach a ridge. Follow this up, still on a path, with great scenery all around, to the S rim of the canyon. The rim is then followed S on flat easy ground to an RSCN lookout post in a unique location on the tip of the plateau overlooking both the Hidan and Mujib Gorges. Just beyond, an unexpected but once again spectacular Bedouin shepherds' path descends steeply through cliffs and down another ridge to the depths of the massive Mujib Gorge, Jordan's 'Grand Canyon', entering its seemingly inaccessible lower reaches by a path built down a cliff. Follow the river down a short way before wading through to reach wild camping areas.
Buses travel from the Amman's southern bus station to Madaba. From Madaba, take private transportation to stage start point in Wadi Hidan and the Mujib plateau.
LOCAL CONTACTS / ACCOMMODATIONS
Wild Camping, Saleh Alziadin,  +962 777248449,

JT Pass Stamps: Wadi Zarqa Ma'in, Wadi Mujib, Wadi Hidan
Wadi Hidan. Views from ridges up top.
Wadi Mujib and swimming holes
Shgieg
Rock Hyrex
Stone-carved path with cistern, some ruins across from where we talked to the shepherd. Dry waterfalls, overhang/caves
Food:
Closest stores in Faqua
Small shop in Shuqeq, possibly a small store in Mathlutha.
You may be able to get vegetables from farmers down near wadi.
Water:
In Wadi Hidan and Wadi Mujib, stream water always there year-round and is drinkable with purification. It's better to drink from streams if possible, as trash and animals collect in the streams and reduce the drinking quality of the water.
Springs and wells along the route are fairly reliable.

Ain Dafali
Springs near Wadi Mujib

Water can be obtained from Shgieg (off route) and various wells.
Tips:
Use boots and poles, and watch your footing. With a lot of elevation change, the route is challenging and beautiful. The trail has a short, slightly-exposed edge along stone-built steps right at end before reaching Wadi Mujib.
Be sure to have boots and poles, and if you have a heavy, loaded pack, be sure to be comfortable with a slippery descent. Make sure anyone attempting this stage is sure-footed and adventurous. It is perhaps the most difficult descent on all of Jordan Trail. The path going up to the plateau, however, has great footing.
Try to follow switchbacks of donkey trails as much as possible
Cross Mujib with sandals, and be careful not to get your boots wet. If hiking with a group, cross at same place and unclip waist belt as current can be strong if water is high.
Avoid getting too close Bedouin camps, and aim wide around and offer a greeting if nearby.
Be prepared if your support crew isn't able to arrive at the expected time. S
Moderate shade behind boulders on last half of stage, if starting early, shade for most of climb
There is 4Å~4 access above half of the way down to Wadi Mujib, as well as up on the plateau at the stage's midway point.
Most dirt roads that come down into the wadi are accessible 4Å~4 vehicle only. Throughout the day, you'll never be that far from a dirt road.
Moderate amount of shade in second half – boulders, overhangs and such. Plateau and first half of wadi. No shade elsewhere.
Safety Info:
Exposed edges – Be careful on a few short sections when descending, also along stone enforced path right before the final descent to Wadi Mujib.
Flash flood dangers – Crossing Wadi Hidan and Wadi Mujib; be careful not to camp too close to the water in the flood plain.
Loose footing – Most of the route; see "Tips."
Dehydration/heat exhaustion – Much of the trail is exposed to the sun ad can be very hot, especially at lower elevations. Be sure to cool off in the flowing streams!
Bedouin north of Wadi Mujib – Some communities have advised hikers to make noise if passing by and not surprise them, especially at night.