SECTION 501: AL-KARAK TO TOR AL-TABOUN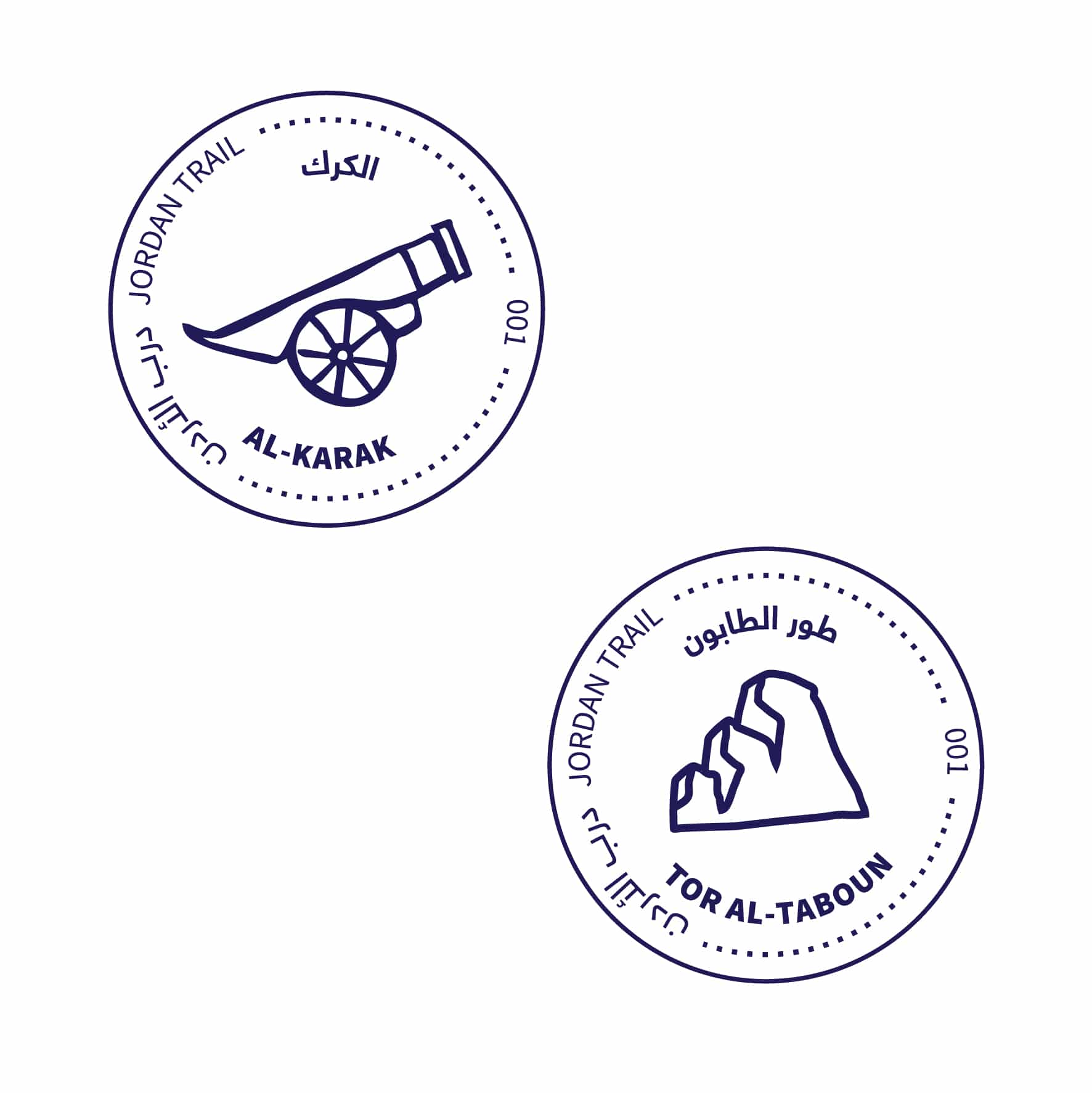 Tourism Police:
Hotline: 117777
What's App: +962 7 7099 1814
* When contacting Tourism Police for emergency identify that you are hiking the Jordan Trail, state your nationality, location and map name & number.
JTA office: +962 6 461 0999
(Working Hours: 9:00 a.m. to 5:00 p.m., Sunday- Thursday)
Leave the castle to head south on a good track high on the side of the impressively striated limestone valley of Wadi ed Dab'a (great views back to the castle and down the valley), eventually crossing the usually dry wadi before rising up to the almost abandoned village of Ainun located above an oxbow bend. (Take time out to explore.) Quiet country lanes then head SW over hills past more ruined villages to the edge of the plateau 1600 metres above the Dead Sea, and immediately overlooking the village of El Iraq. Follow a path along the edge to the village of Jahra and descend on paths to Tur Taboun.
Buses go to Karak from Amman and Aqaba.
Many sections of this stage are accessible by vehicle.
LOCAL CONTACTS / ACCOMMODATAIONS
Wild Camping, Karam Alkhrisha,  +962 798372030,

JT Pass Stamp: Tor Al Taboun

Home Stay, Asma Al Mahaneya,  +962 795188264
Kerak Castle
Ainun Village Ruins
Kferaz Ruins
Zijda Ruins
Al-Dabbakah
Jahra / Um Al-Ghuzlan
Nice views over the Dead Sea from Al-Iraq rim
Tur Taboun Cliffs and Rock Climbing
Food:
Supplies are available in a variety of small villages along the stage.
It's wise to stock up in Karak for a few days
Water:
Water can be obtained from random houses and farms in villages along the way. A small spring near Tor Taboun exists, but reliability should be confirmed.
Tips:
It's a long stage, but easy walking for most of it.
If self-supported, you can fill up water at various villages and seek camping at multiple points in stage. Be sure to have enough to get you to Burbeita at bottom of wadi 6km past Tor Taboun.
The trail down from Jahra village is a little slippery at places
Bathrooms available at the beginning in Kerak, in Hotels and restaurants.
ATM available at the beginning in Kerak City.
Safety Info:
Flash flood dangers – Mild risk in Wadi Mughair
Loose footing – A few sections coming down Jahra to Tor Taboun
Animals – various dogs along the way, possible to see dogs than people
Dehydration/heat exhaustion – Most of the route is around 1200m and cooler than lower elevations. Shade is limited.