ADOPTED BY: THE LAND COMPANY
SECTION 104: RASOUN TO AJLOUN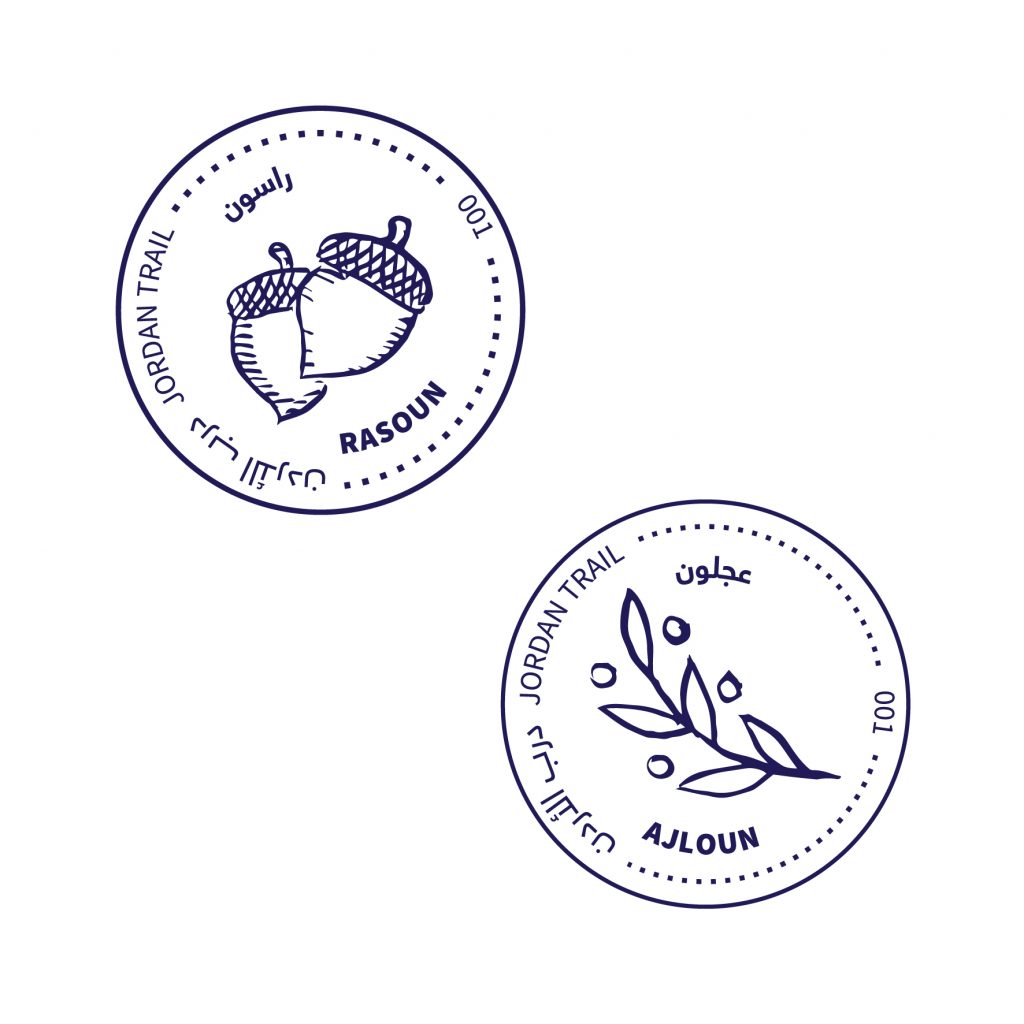 Tourism Police:
Hotline: 117777
What's App: +962 7 7099 1814
* When contacting Tourism Police for emergency identify that you are hiking the Jordan Trail, state your nationality, location and map name & number.
JTA office: +962 6 461 0999
(Working Hours: 9:00 a.m. to 5:00 p.m., Sunday- Thursday)
Generally easy walking today, often on country lanes through the rural villages of Al Ayoun with opportunities for a pre-arranged lunch in one of Al Ayoun's homestays. RSCN's Soap House and Calligraphy house are also nearby for an interesting visit. Then the walk meanders over increasingly high semi-forested hills and past the ruins of the ancient church of Mar Elyas to the Islamic castle of Ajloun on its dominating hilltop with a Visitor Centre, cafés and hotels (currently rather mediocre) in the town below.
LOCAL CONTACTS / ACCOMMODATION
Ajloun Hotel, +96226420524, Khalil Eraifej, +962795656233, Yamen Eraifej, +962792922579,

JT Pass Stamp Ajloun

Wadi Tawaheen Guesthouse, +962776846239
Food:
Rasoun, Orjan, Baoun villages have small shops or supermarkets
Cafe at Ajloun Castle
Restaurant at Ajloun Hotel just down the street from the castle
Water:
Rasoun, Orjan, Baoun villages
Mar Elias bathrooms (you may want to purify)
Ajloun Castle
Tips:
Bask in this pleasant day with great views, friendly villages, and a diversity of historic sites.
Route is waymarked and used frequently.
Safety Info:
Loose footing – There are just a few very short sections going up or down trail on inclines with loose footing.
Animals – Hikers may encounter shepherd dogs.