SECTION 101 : UM QAIS TO ZIGLAB
Route Map

Google Map

GPS

Elevation Chart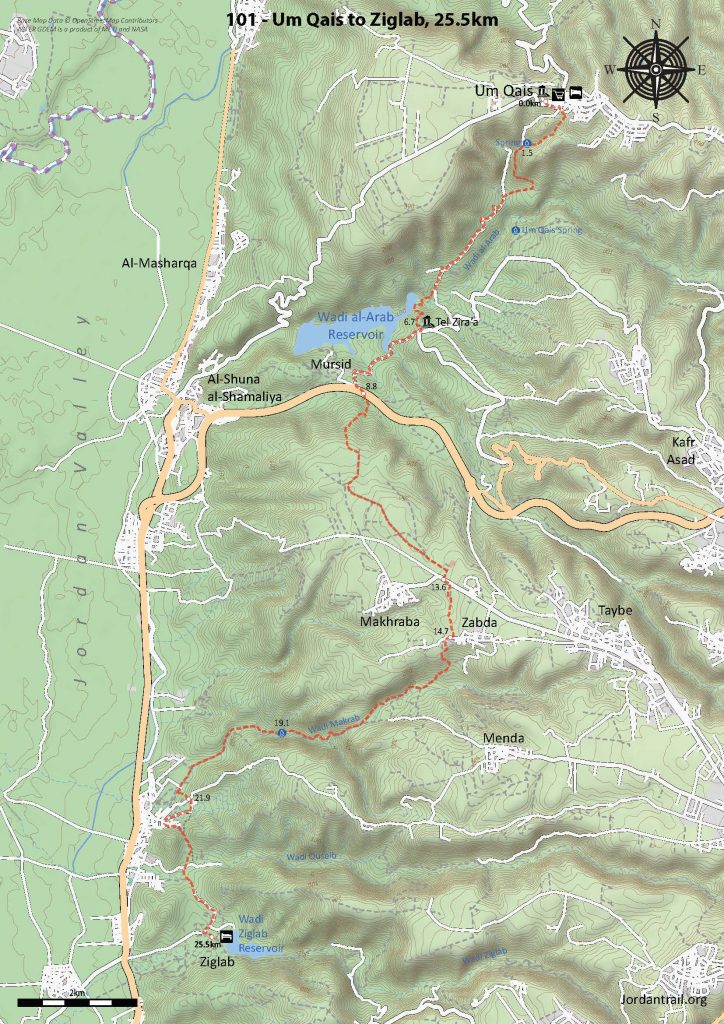 To download the Jordan Trail GPS tracks, click here
Click icon
to download the map
Tourism Police:
Hotline: 117777
What's App: +962 7 7099 1814
* When contacting Tourism Police for emergency identify that you are hiking the Jordan Trail, state your nationality, location and map name & number.
JTA:
Bashir +962 7 7844 2200
It's the first day, so nice to begin downhill. Starting at the basalt ruins of the Decapolis of Um Qais overlooking the Sea of Galilee, we head down towards the Arab Dam, reaching Tel Zaraa at the water's edge. We then follow the south side of the reservoir before climbing hills to a flat rich agriculture plain and the village of Zabda. Beyond, we drop down and follow Wadi Darraba and Quseiba to the weat, finally heading south and crossing Wadi et Taiyiba to the Ziglab Lake and Eco Park. A beautiful hike especially nice in the Spring.
Um Qais
Rawan Homestay, 0776929576
Beit Al Barakah, 0776667660
Gadera Rent Room, contact Ahmad Omari
Philodemus Camp, contact Ahmad Omari
Ziglab
Sharhabil Bin Hassneh EcoPark, ecolodges and camping, $, (0)79-8100411, jordanecopark.com
Wadi al-Arab Dam
Tel Zar'a and Rock Climbing
Zabda & Makhraba
Wild Boar
Food:
Restaurants in Um Qais
Shops in Um Qais, Murshid, Makhraba, Waqas
Meals are available at the Sharhabil Bin Hassneh EcoPark.
Water:
Villages and shops along the way
Um Qais Spring: said not to be trusted for drinking due to runoff
Wadi Makrab Spring: flowing at time of research (purify before drinking, could require digging)
Tips:
Be ready for the long, steep uphill in middle of the day.
The lower, second half of the route can get quite hot later in the day, especially outside of winter.
Route is waymarked and used frequently.
Safety Info:
Exposed edges – Minor, short section after Ein Um Qais
Flash flood dangers: Wadi Quseib (mild risk)
Loose footing – Downhill from Um Qais at beginning, Wadi Quseib
Animals – Shepherd dogs are present in a few places, mostly controlled well by owners
Dehydration/heat exhaustion – Take extra care, especially in hotter, lower section after Zabda